Complete dental care – the comfortable way - Honolulu - Oahu - Ala Moana - Kakaako - Waikiki - Hawaii
Honolulu Dentist Newsletter Fall 2010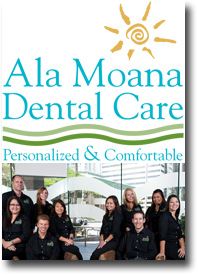 ALA MOANA DENTAL CARE FALL NEWSLETTER
Happy Holidays!
From all of us at Ala Moana Dental Care we wish you the very best for a safe and Happy Holiday Season. We also wanted to thank you for choosing us for your dental care and will continue to do our best for you in the New Year.
In this issue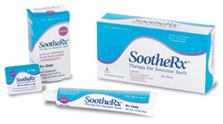 We now offer Soothe Rx toothpaste which is the best toothpaste available to treat sensitive teeth. It does this by actually remineralizing the tooth with Calcium and Phosphate which are the same minerals it is made out of. The affects are very long lasting and after the first two weeks of use you only have to use it once a week to maintain the benefits.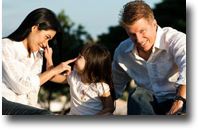 Dr. Declan has a baby boy due on Dec. 17. We're really looking forward to his arrival but unfortunately still don't have a name. So if you can think of a good one we would love to hear it.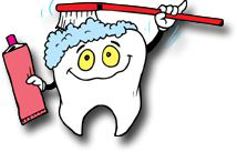 A simple way to turbo charge any toothpaste is to first put some of your favorite toothpaste on the brush and then dip it into baking soda. What this does is increase the pH, making the toothpaste more alkaline, which drives minerals into the teeth. It also decreases any acidic affects of sweat foods you may have eaten. The baking soda is most effective if it is not already in the toothpaste but just dipped into and kept in a separate container. For years the dental profession thought that baking soda was abrasive and shouldn't be used but research has now shown that this was incorrect because baking soda dissolves rapidly in the mouth and has only beneficial effects on the teeth. Turns out GrandMa was right after all on using baking soda to clean your teeth.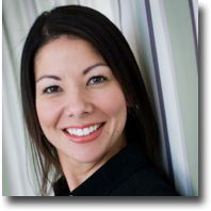 Zoom! whitening
at $395 (usual price $680) OR
KoR deep whitening
for $695 (usual price $980). This is a savings of almost $300 over the normal price and makes a great Christmas Gift for yourself or someone special in your life. Call 808-941-5555 to schedule your appointment today.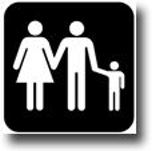 Year end insurance. Don't forget most dental plans renew at the end of the year and any unused dental benefits EXPIRE. If you aren't sure if you have any benefits left and would like to check we would be happy to do so for you. Just give us a call at #941-5555.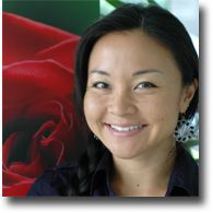 We continue to maintain our low price on a regular cleaning and check up, only $49. So if you need this service let us know by calling 808-941-5555.

We have added a new feature on every page of our website where you can Facebook "Like" or Tweet any page! These links will also give you the enhance option to add comments when you click on it so you can let your friends know what you think. Great way to support Dr. Declan & Associates and let your friends know all that we has to offer! Visit our
home page
and let you friends know you Like Ala Moana Dental Care.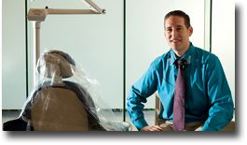 We continue to maintain our low price on a regular cleaning and check up, only $49. So if you need this service let us know. Visit our testimonial page:
https://www.drdeclan.com/d/d/dental-testimonials.html
Post your own testimonial
. Here is a link to submit your own Ala Moana Dental Testimonial:
https://www.drdeclan.com/d/d/testimonial-request.html
We just had our Annual Christmas Party at
Miyabi Japanese restaurant
. Everyone had a fantastic time and the food was wonderful so if you get a chance we would highly recommend them. They are located at 808 Kapahulu and their number is 737-2828.
Bye for now, Dr.D and all of us at Ala Moana Dental Care
https://www.drdeclan.com
ref no:9304
Featured Product/Service
<!PDF LINK>
<!998Template_start>
<!998Template_end>
---
Please send questions about this website to