<!HEADER START>
<!TITLE START>

The Different Causes of Defects in the Tooth Structure

<!TITLE END> <!SOCIAL SECTION START>
<!HEADER END>

<!******* 1 TAB NAVIGATION START******>
Back to the top
<!#450IMAGESTART>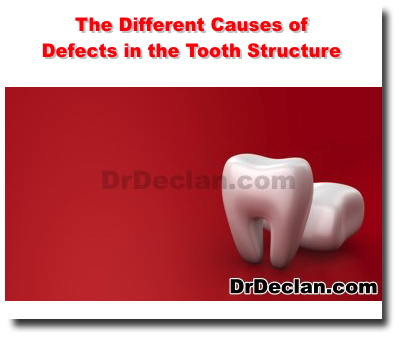 <!#450IMAGEEND>
<!#43START>
The Different Causes of Defects in the Tooth Structure
There are many causes and sometimes multiple factors that cause defects in your tooth structure.
Some are chemical factors, mechanical or bacterial. We are familiar with the holes that bacteria make in teeth - known as decay.
However some concavities on the biting surface of the teeth or the grooves by the gum line are not caused by bacteria. Often this is caused by erosion which is the wearing away of tooth structure by acids. As the outer surface of tooth structure (enamel) wears away the substructure of the tooth becomes visible. The substructure is called dentin and is more yellow in appearance. Teeth take on an aged appearance when they have more enamel worn away by acids because they appear increasingly yellow.
These acids are commonly from our diet in the form of coffee, soda, wine, juice and fruits. Different dietary habits produce different erosion patterns and we'll be happy to discuss this further with you.
If you have any questions on this subject, feel free to contact us to request a consultation.
<!#43END>
<!******* 2 TAB NAVIGATION START******>
Back to the top
ref no:29444
<!#999SPACERStart>
<!#999SPACEREnd>
<!#999SPACERStart>
<!#999SPACEREnd>
Please send questions about this website to
webmaster