<!HEADER START>
<!TITLE START>

Is A Dark Tooth Considered Dead?

<!TITLE END> <!SOCIAL SECTION START>
<!HEADER END>

<!******* 1 TAB NAVIGATION START******>
Back to the top
<!#450IMAGESTART>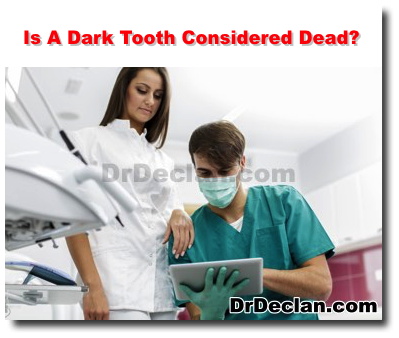 <!#450IMAGEEND>
<!#43START>
Is A Dark Tooth Considered Dead?
There are many reasons for a tooth to turn dark but the most common is from a trauma. If trauma occurs somewhere else in your body, the area will often have a bruise which is caused by the rupturing of red blood cells.
If the trauma occurs to a tooth, the red blood cells inside your tooth rupture and the discoloration takes a lot longer to show up, since the tooth is so dense. Once the discoloration occurs inside the tooth it doesn't go away unlike a bruise to the skin. Often this type of trauma to a tooth will be enough to permanently damage the nerve and leave it "dead."
Other things can also kill the nerve of a tooth such as decay, excessive clenching, and gum disease. A simple way to tell if the nerve of the tooth is dead is to apply a small piece of ice or something similar to only the tooth that may be dead and then doing that same test to a different tooth in your mouth. A normal tooth will feel the cold sensation and it will go away when the cold is removed. A dead tooth won't even feel the cold.
If you need assistance regarding a possibly "dead" tooth, don't wait! Contact us soon! We are open 7 days a week. Check out our Hours of Operation.
<!#43END>
<!******* 2 TAB NAVIGATION START******>
Back to the top
ref no:29390
<!#999SPACERStart>
<!#999SPACEREnd>
<!#999SPACERStart>
<!#999SPACEREnd>
Please send questions about this website to
webmaster