<!HEADER START>
<!TITLE START>

Dr. Brett Mandich - Honolulu Dentist

<!TITLE END> <!SOCIAL SECTION START>
<!HEADER END>

<!#450IMAGESTART>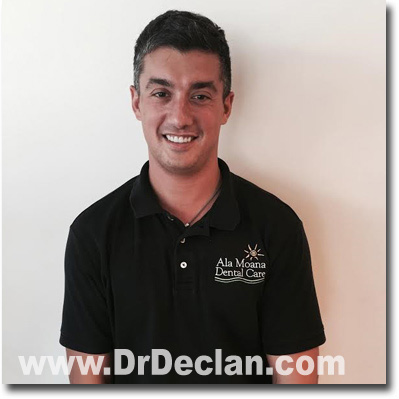 <!#450IMAGEEND>
Dr. Mandich is from Philadelphia, Pennsylvania. He graduated from Pennsylvania State University & continued on to get his Masters Degree at Barry University. He finished school in Philadelphia at the Temple School of Dentistry & graduated in 2011. He practiced in Hawaii for 2.5 years at an office located in downtown Honolulu before coming to Ala Moana Dental Care. In his free time, he likes to travel, cook, garden & surf. Dr. Mandich is a certified diver. He is an avid traveler & has been to many exotic locales such as Indonesia, Norway & the Philippines. His mission statement is to be happy.
<!#997MultiTitleStart>
RECENT HONOLULU DENTIST DR. BRETT MANDICH TESTIMONIALS BELOW
<!#997MultiTitleEnd> <!#997MultiTableStart>
I had a great experience at Ala Moana Dental.
Dental Patient: nancyt
I had a great experience at Ala Moana Dental. I had an excruciating painful toothache and I was trying to hold off until Monday so I could go to a Dentist close to where I live (Laie, North Shore). However the pain persisted and found Ala Moana Dental open on Sunday and make the long drive downtown. They diagnosed the problem quickly and got to work. My root canal however, was not straightforward and I gave Dr Mandich quite the workout, but he was definitely up for the task. He explained every step so I knew what was happening, he consistently asked if I was comfortable, and when things started to look like I would need to be referred to an Endodontist he said he would give it one more go. He fixed the problem with such professionalism and I was 100% pain free. Even when the anesthetic wore off I had absolutely no pain at all. I was so impressed and drove an hour home in stark contrast to how I drove into town. This was an amazing experience and I absolutely loathe going to the Dentist. Thank you so much Dr Mandich and the team at Ala Moana Dental Care. I will make the drive into town for such wonderful service. Cheers
This was the best dental experience ever...
Dental Patient: charityc
This was the best dental experience ever. I was experiencing an excruciating toothache in the middle of the night that woke me up and I couldn't go back to sleep. Did a quick search online for a dental office that was accepting new applicants and one that opens early. I called at 6am, and they took me in at 8am. Turns out I had an infection on my wisdom tooth. They gave me antibiotics and pain meds, then scheduled an appointment to remove all my wisdom teeth once the infection goes down. Come my dental appointment about a week later, I was worried. I was more scared about the dental procedure itself than the recovery time! Crazy thinking, I know. When I arrived, the assistants assured me that there was nothing to worry about and that Dr. Mandich is great and does this procedure many times. Once he arrived, he asked if I was ok, I still told him I was worried, and he told me straight up in the most honest way, I'll be numb and will feel pressure but I won't feel pain and that he'd walk me through the procedure. That was comforting. Long story short - the procedure went SO SMOOTH and after the top two wisdoms were removed (didn't even notice), they waited till the numbing for the bottom two wisdoms kick in more. During this time, I was so relaxed that I took a mini nap (well, half a sleep because I still could heard everything happening around me). Maybe about 10 mins later, they came back to finish the bottom wisdoms. Seemed a little harder to get out, but both Dr and Jackie (?) walk me through everything that was happening and made sure I felt no pain. All of a sudden, its was all done! I was so relieved that everything went so well. They were so awesome and made the whole experience a great one! So thankful. Would totally recommend.
Great place, great service!
Dental Patient: mikaelem
Great place, great service! Dr. Mandich was awesome!
thank you so much for making this experience as painless as possible!
Dental Patient: michellep
I'm writing this review 3 days post wisdom tooth extraction. So far so good! Trust me I was dreading having my wisdom tooth extracted and that's why I put it off so long. Dr.Brett Mandich was the dentist who I was scheduled with. The one time I wish they would take long to call me in, it didn't happen. Their office is always good about keeping to the schedule and I didn't have to wait at all. When I got put in the chair, one of the girls put the numbing gel on my gums. Couple minutes later Dr. Mandich came in and spoke with me. He was very professional and tried his best to calm my nerves. He told me that it "wouldn't be as terrible as I thought" and that he knew that I wouldn't believe him. Lol and of course I didn't. He numbed me with I think 3 syringes? I'm not sure because I kept my eyes closed the whole time lol and I only felt the 1st one. When he knew I couldn't feel anything he told me that he was going to start and that I would feel pressure. He made sure that I was ok the whole time and in a matter of 2 minutes my tooth was out! I was impressed. No crazy pulling or tugging like my last experience with another dental office. I made sure to follow his instructions and the written ones they provided me with I had very minimal bleeding. thank you so much for making this experience as painless as possible!
Was great service
Dental Patient: pill
Was great service, kind and make me understanding every steps Dr. Brett Mandich was excellent. Make painless. Thank you for all the staffs.
Amazing! Staff was smiling, friendly and explain the procedure to me.
Dental Patient: yaprako
Amazing! Staff was smiling, friendly and explain the procedure to me. The procedure went really quick. Dr. Brett Mandich is one of a kind. He is so talented. He remowed my lower back wisdom tooth so easily. The best part is I have not even taken meds for pain because there is NO PAIN! No post-procedure infection, no sensitivity! Thank you Dr. Mandich
Dr. Brett Mandich and Danielle were absolutely wonderful.
Dental Patient: johns
Dr. Brett Mandich and Danielle were absolutely wonderful. Thank you.
<!#997MultiTableEnd>
<!#994MultiTitleStart>
HONOLULU DENTIST SERVICES
<!#994MultiTitleEnd> <!#994MultiTableStart>
<!#994MultiTableEnd>
ref no:12504
<!#999SPACERStart>
<!#999SPACEREnd>
<!#999SPACERStart>
<!#999SPACEREnd>
Please send questions about this website to
webmaster